The barn is now complete and now with lights!!!!
Two years after the outer shell was completed,
I finally had 2 custom designed free standing stalls installed during Phase 1 on Oct 15, 2011. Then Phase 2 February from 23-24 2012 - completed the barn - with the installation a third stall, breezeway doors and back porch.
Thank you to FCP Barns & Buildings for all the hard work done to customize and complete my barn project . I would highly recommend them to anyone who is looking to for a new barn or stalls - Quality!
Phase 1 Photos Phase 2 Photos Mia in her stall area
No more snow/rain in the barn Lights
Before: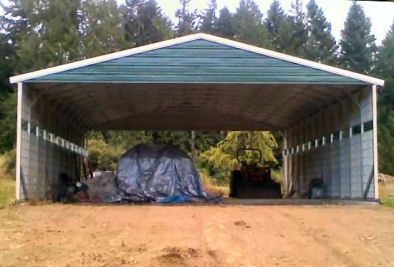 After: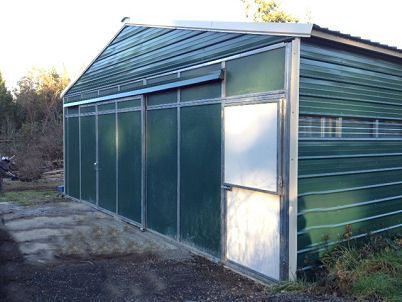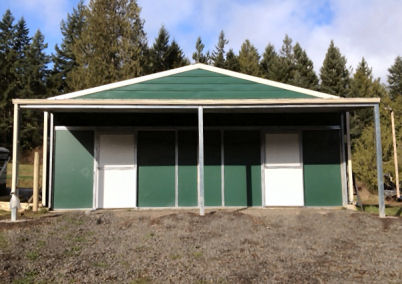 Phase 1 - Began Oct 15, 2011 - The FCP custom designed stalls ended up setting perfectly on the preinstalled concrete footings which is why the stalls are not standard 12' x 14'. All metal constructions which is great for fire prevention and horses that like to chew wood with 8 foot walls!
Stall 1 - 12' x 14' 5 7/8" -exterior walls are embossed metal in forest green interior walls are zincalume - added yoke to stall doors (like how wide the yokes), feed door, and blanket rack: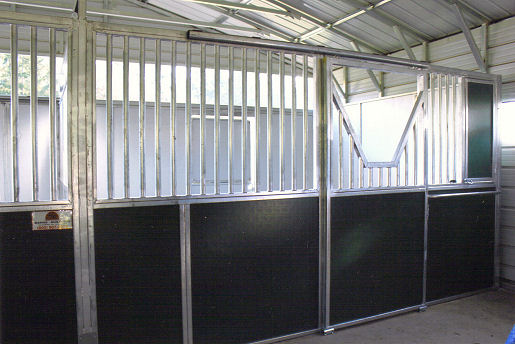 Stall 2 - 12' x 14' 5 7/8" - added yoke to stall doors, feed door, and blanket rack
(the red/wood on the floor in front of the stalls are the skylights panels that will be installed above the back of the stalls):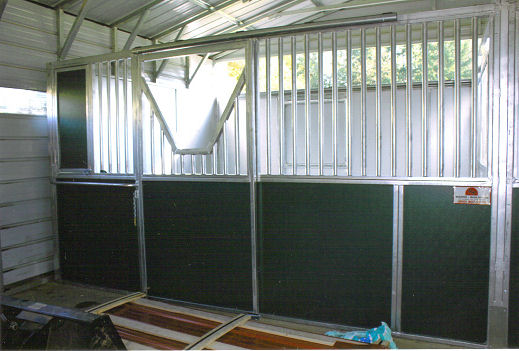 Close up of stall fronts - added yoke to stall doors, feed door, and blanket rack: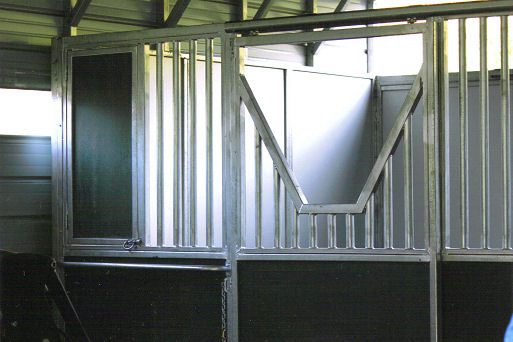 Love this added option feature! 12' Floating divider wall with 3/4 grill. The wall can slide to two preset stops which will enlarge Stall 1 to be a foaling stall either - 12' x 20' 5 7/8" or to 12' x 24' 5 7/8"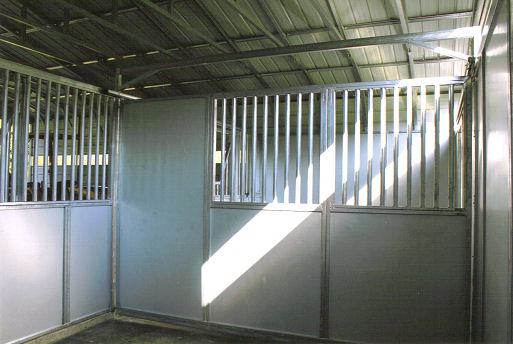 Back of the stalls, with added option of dutch doors in white (thunder cloud), which leads out to paddock area (not yet fenced in...but soon!). I elected to have the 2 foot gap above the stalls left open as I plan to frame in skylight panels so that it will allow sunlight to come in over the stalls. In Washington, we need to capture all the light possible: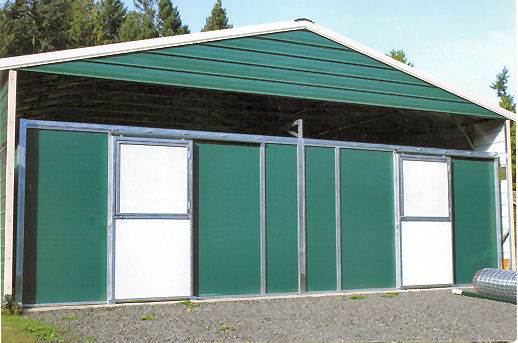 Back of the stalls with top of dutch door open: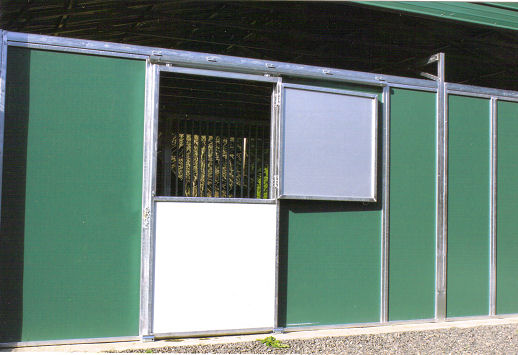 Back of the stalls - dutch door slides open: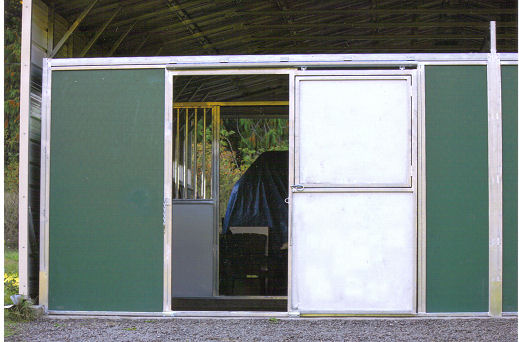 Phase 2 - Feb 23-24, 2012 -This phase included the installation of a 30 foot by 8 foot porch over the back 2 stalls which will keep the rain from going in the 2 foot opening and mud from in front of the stalls. Downspout for the gutter runs off into the water trough (shown before paddocks were completed and water trough installed):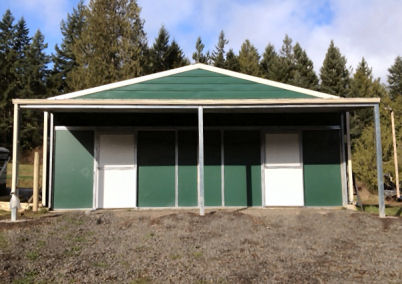 The front of the barn is now fully enclosed...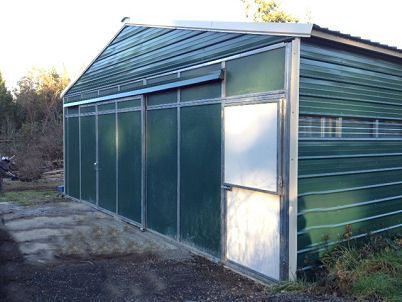 With two breezeway doors - 4' x 9' and 8' x 9' . Also one custom dutch door with double hinges so the top of the dutch door will open even when the 8'x 9' breezeway door is open....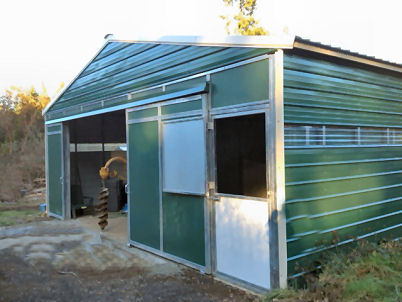 The 3rd stall was installed as a feed/hay room or stall....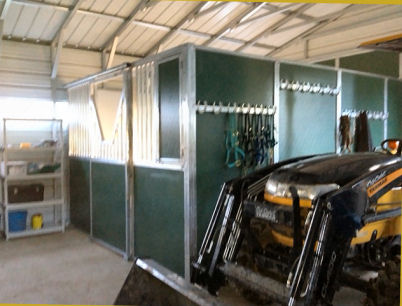 With 3 utility racks (total of 18 hangars) on the side of the stall for halters, blankets, etc.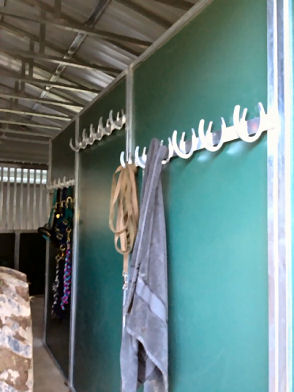 Mia (aka Far Field Olema) exploring her new stall area on Mar 17, 2012-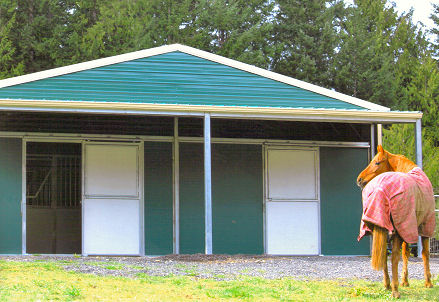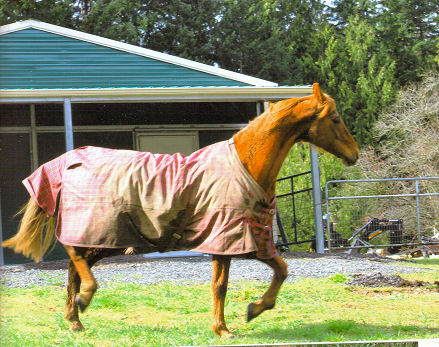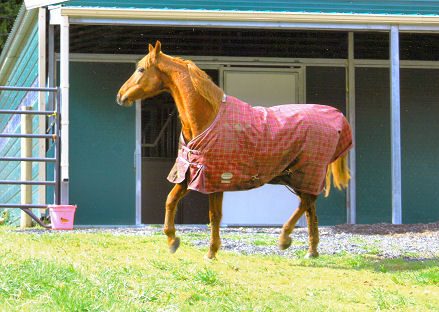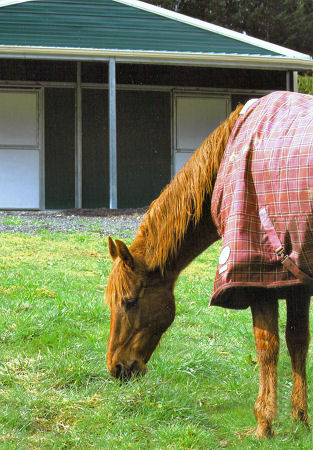 Now no more snow and rain in the barn....back or front!
Before.....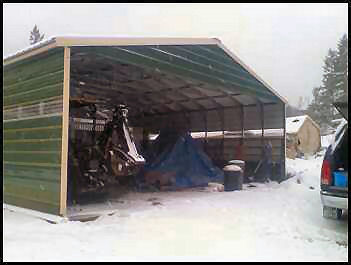 After.....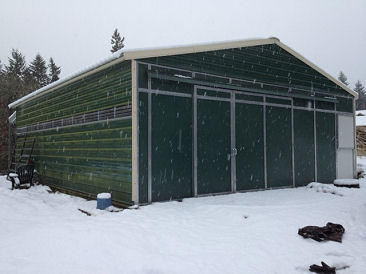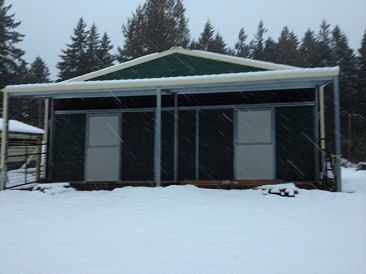 Finally lights..no more flashlights to navigate around the barn at night: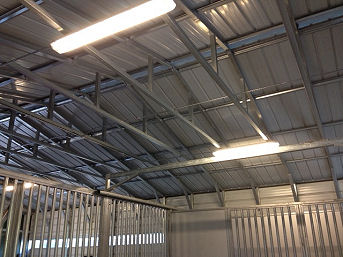 Four - 4 foot light fixtures inside with covers - sealed against moisture and dust. Light reflects really nicely against the stall walls and the white barn walls. Very bright with only 4 lights.
Also, four outlets - 2 in front of barn and 2 in front of the stalls. .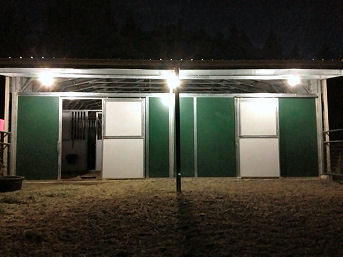 Three - single light fixtures outside - sealed against moisture and dust.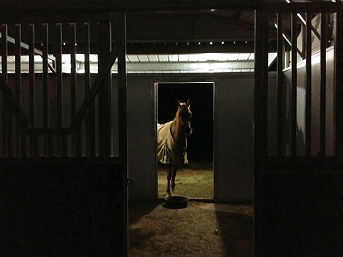 Even at night the light comes in from the outside lights.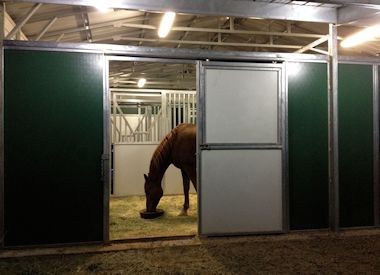 Peaceful night....