LG Cystyr
(*Cytrys x Ladi Utez)
17 Feb 1979 - 19 Dec 2001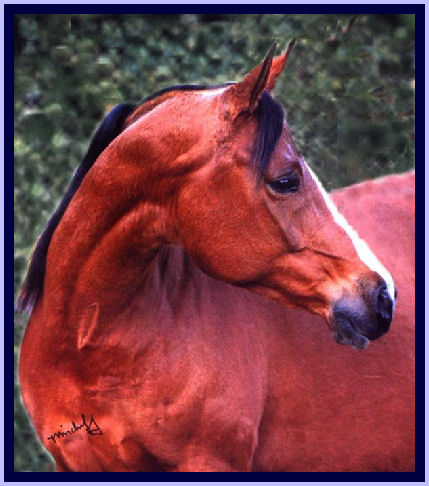 CYSTYR's story:

LG CYSTYR, born 17 Feb 1979, was my first purebred Arabian mare after a long and intensive search for that special Arabian mare. I fell in love with her the first time I saw her in person! She was by the pure polish stallion *CYTRYS and out of a WITEZ II granddaughter - LADI UTEZ.
CYSTYR like WITEZ II had a rough beginning. The people I bought her from, FalconCrest Arabians, told me they had purchased CYSTYR from a Bankruptcy Auction. The farm CYSTYR came from originally went bankrupt and all the horses were put in a cow field until things were settled. Money from the estate was sent to the owner of the field to purchase hay and grain for the horses, but it turned out that the horses were not being fed the extra hay and grain. Several horses died, and when CYSTYR was in the auction she was very thin and her muscles were spongy.
My friends at Falcon Crest Arabians, bought her and got her back into shape as they raise Arabian horses for many years. By chance I read a sales list of theirs and liked CYSTYR's pedigree. When I saw her, I fell in love with her but at that time her price was 3 times my budget. 12 months later, I read that the FCArabians was having a barn sale. They only had a video of a weanling filly out of CYSTYR by DWD Tabasco which they sent me. In the video I saw little bits of CYSTYR...I immediately called them back during their sale...found out the price had been lowered for the sale and I told them I would buy her...sight unseen after a year...but I knew she was the mare I needed!
Since then she has produced 2 foals for me - MUSCESTARA, a mare by MUSCAFIR and a CYR ECHO, stallion by RAY DOR ECHO. Both have been shown Class A winners and were champions in their own right.
CYR ECHO by RAY DOR ECHO is at ROSEWOOD Farm in Montana and his first foals were born in 2003.
MUSCESTARA by MUSCOFIR produced a gorgeous grey filly, MISS NADIA STAR, by multi champion ALI DHALAN in May 2003. MUSCESTARA suffered a stroke 5 weeks after giving birth and had to be humanely euthanized.
CYSTYR was humanely euthanized at the age of 23 on 19 Dec 2002 at 0930 due to health complication that was causing her great suffering. I had a chance to spend quality moments hugging her and holding her head and telling her how much I loved her before she left. She was buried in a very special location on our farm next to my very first horse, Happy, my Thoroughbred gelding that lived until 29.
LG CYSTYR is truly missed not only by the Mircheff family but by her daughter, MUSCESTARA, who was her constant pasture mate for 11 years.