AHA Breeders Sweepstakes nominated
Arabian Filly - Born May 17, 2004
Double Reg - AHA & PtHA Breeding Stock
Owned by: Debbie Mircheff and Breanne Little

2011 Register of Merit - Discipline Rail English Open
2010 Championship #2922 Open Division
2010 Register of Merit - English Pleasure Open Division
2009 1st Place Horse of the Year - Breeding Stock
2009 Register of Merit-Halter Open Division
Trained and Shown: by Breanne Little - Youth Halter, Open Halter, English Pleasure, English Equitation, Discipline Rail English, Hunter Under Saddle
and Judy Daughtery - Open Halter (2009-2010)
This mare is not for sale...but be sure to watch for her in the show ring in 2011!

MISS NADIA STAR is a Grey Arabian Filly born chestnut on May 17, 2004. Gorgeous upright grey Arabian filly with a "LOOK AT ME" attitude, tippy ears, and pretty, pretty motion! Her sire is the Multi Champion ALI JAMAAL son, ALI DHALAN. ALI DHALAN's Dam is the Multi Champion Mare, DECEPTION by DEDICATION a DALUL grandson. ALI DHALAN has 3 crosses to MORAFIC, 2 crosses to *RAFFLES, 1 cross to FADJUR, and 3 crosses to *FERSEYN. Nadia's DAM is the gorgeous bay Polish and Russian bred mare, MUSCESTARA. MUSCESTARA's Sire is MUSCOFIR (half brother to BEY SHAH) and a MUSCAT grandson. MUCSOFIR's dam is the legendary STAR OF OFIR a *BASK daughter. MUSCESTARA's dam is the beautiful *CYTRYS daughter, LG CYSTYR and is a great granddaughter of the legendary, *WITEZ II.

Unfortunately Nadia was orphaned at almost 5 weeks of age, when her dam had a stroke and had to be humanely euthanized. The following day, Nadia was introduced to her "foster" mom, a 29 year old quarter horse mare, Amber. Amber did a wonderful job filling in for Musecestara and taught Nadia how to be a horse which resulted in her being a nicely mannered filly. My niece, Breanne, has always loved Nadia and asked if she could begin training Nadia under saddle in October 2007. Under the guidance of Judy Daughtery of MJD Arabians/Pintos, Breanne has done all the ground work and training Nadia under saddle and the both of them have come a long way!! Breanne and Nadia went out into the show ring in 2008 after 7 months under saddle and have been doing great ever since!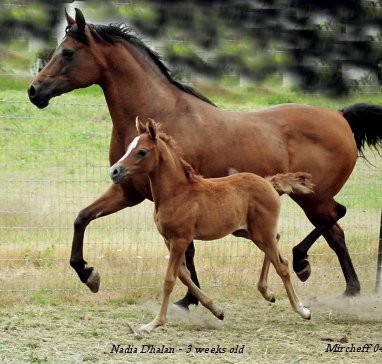 Muscestara & Nadia at 3 wks old.


Recent Photos: (additional photos on photo diary)
2012

Show Hack


2011











Photo by Breanne Little

Photo by Breanne Little

2012

2012 PtHA Horse of the Year - Show Hack - Breeding Stock

2012
PtHAWW Let's Go Show April (4 judges) Spanaway, WA

English High Point - Breeding Stock Trophy

2011
PtHAWW Let's Go Show April (6 judges) Spanaway, WA

Earned ROM points in English Pleasure, Discipline Rail English, and Halter.
Halter - received a Championship and a Reserve Championship.
Earned ROM in Discipline Rail English

2010
2010 PtHA Pinto of The Year Top 10 -

2nd - Breeding Stock Disciplined Rail English Horse
4th - Breeding Stock English Pleasure
4th - Breeding Stock Halter Pleasure Type Mare Horse
4th - Breeding Stock Youth Halter
6th - Breeding Stock Hunter Under Saddle Horse

2010-Earned PtHA Championship #2922 - Open Division in their 2nd year showing the PtHA Breeding Stock Circuit in Washington. This was accomplished by earning more than the required points in ROM approved classes under 8 or more judges- over 65 points (99 total) in Halter classes, over 65 points (74 total) in at least 3 ROM approved classes - Hunter Under Saddle, English Pleasure, and Disciplined Rail English, and 1 ROM in performance (English Pleasure-2010). Shown by Breanne Little

2010-Earned Register of Merit -English Pleasure - Open Division by earning more than 35 points in ROM English Pleasure Classes. Shown by Breanne Little

PTHAWW Overall High Point for 2010 - Breeding Stock Performance - 3rd place. Shown by Breanne Little

PTHAWW Open Year End High Point for 2010 - Breeding Stock English Pleasure - Reserve Champion High Point, Breeding Stock Halter-Saddle/Pleasure Type - 5th place High Point. Shown by Breanne Little

Aug 13 - Cascade Pinto Show (5 judges) - Earned ROM points in Halter and English Pleasure. High Point-3rd - Breeding Stock Open, High Point Champion - Youth 18 & Under Breeding Stocl. Shown by Breanne Little

PTHAWW Jubilee - Earned ROM points performance. High Point -4th-Performance Breeding Stock and Reserve Champion High Point - Youth 18 & Under Breeding Stock Shown by Breanne Little

July 23-25 PTHAWW Big Six Show (6 judges). Earned ROM points in Halter, Disciplined Rail English, English Pleasure, & Hunter Under Saddle. High Point -5th-Performance Breeding Stock and Youth 18 & Under Breeding Stock. Shown by Breanne Little

May 14 - Cascade Pinto Show (6 judges) - Earned ROM points in Halter, Disciplined Rail English, English Pleasure, & Hunter Under Saddle. High Point - 3rd - Youth 18 & Under Breeding Stock
Shown by Breanne Little

Apr 16-19 PTHAWW Let's Go Show (6 judges) - Miss Nadia Star - Reserve Champion High Point, Breanne Little - Reserve Champion High Point Youth 18 & Under Breeding Stock - Performance Breeding Stock. Earned ROM points in Halter, Disciplined Rail English, English Pleasure, & Hunter Under Saddle.
Shown by Breanne Little

2009
Apr 16-18 PTHAWW Show (6 judges)
High Point Champion - Open Breeding Stock Horse
High Point Reserve - Youth Breeding Stock Horse
Shown by Breanne Little

2009-Earned Champion - Horse of the Year - Breeding Stock Halter Pleasure Type Mare.

2009-Earned Register of Merit - Halter - Breeding Stock Pinto

June WSH Class B- Dual Benefit Show-(2 judges)-
1st by both judges- Hunt Seat Equitation not to Jump 14 & under.
1st by both judges- English Pleasure Horse Hunter Type 14 & under.
Shown by Breanne Little

2008
Silver Spurs Performance Show:
Grand Champion - English Equitation-Intermediate (5 entries)
Res Champion - English Pleasure - 2 gait - Intermediate (5 entries)
1st - English Equitation - 2 gait - All ages (12 entries)
2nd - English Pleasure - 2 gait - All ages (10 entries)
Shown by Breanne Little
Jul Kitsap Saddle Club Performance Playday:
1st - English Equitation - 2 gait 13-17 (6 entries)
1st - Green Rider English Pleasure - 2 gait 13-17 (6 entries)
1st - Green Horse English Pleasure - 2 gait Open (12 entries)
6th - English Pleasure - 2 gait 13-17 (6 entries)-(spooked a paper tossed out of the announces booth when going by..ooops!)
(Green horse- All ages - 1st and 2nd year showing)
Shown by Breanne Little
July WSH Class B - Dual Benefit Show - 2 Judge System, Kitsap Saddle Club:
Hunter-Walk Trot- 4th and 5th
Hunter-Walk Trot-Green Horse-6th out of 12 (all ages - horses shown for up to 2 yrs) Shown by Breanne Little
May WSH Class B - Dual Benefit Show - 2 Judge System:
Arabian Halter - 1st and 2nd - Her 1st Show!!!
Shown by Judy Daughtery


Extended Pedigree:
Legend for Pedigree Below:
(B)= Bay (C)=Chestnut (G)=Grey *=Imported PASB=Polish Registry SWSB= Swedish Registry
Shaikh Al Badi (G)

*Morafic (G) - (Nazeer)
*Bint Maisa El Saghira (B) - (Nazeer)
Bint Magidaa (G)
*Khofo (G) - (*Morafic)
*Magidaa (C) - (Alaa El Din)
El Magato (G)
El Gato (B) - (Ferseyn)
Heritage Memory (B)
Marharetta (G) - (Ferseyn)
Heritage Labelle (G)
Fadi (G) - (Fadjur)
La Donna (G) - (Ferneyn)
Dalul (C)
*Morafic (G) - (Nazeer)
Dedication (B)
*Dawlat (C) - (Anter)
Gahlan (G)
Surf (G) - (Sureyn)
Sunny Acres Gaby (G) - (Ibn Hanad)
Rafden (G)
*Raffles (Wh) - (2xSkowronek)
Lo Easteraf (G)
Woengran (B) - (Moneyn)
Azzaraf (G)
Imaraff (B) - (*Raffles)(2xSkowronek)
Azyya (G) - (Kenur)
*Muscat (C)
Salon RASB (G)
Muscastar (B)
*Malpia RASB (C)
Miss Century (B)
Ga'zi AHR (C)

Muscofir (B)
Zaryn AHR (C)

*Bask (B)
Witraz PASB (B)
Star of Ofir (B)
Balalajka PASB (G)
Llana (C)
Ga'zi AHR (C)

Muscestara (B)
Zaryn AHR (C)
Trypolis PASB (G)
Enwer Bey PASB (G)

*Cytrys (B)

Kahira PASB (B)
Cissa PASB (G)
Wielki Szlem PASB (B)

LG Cystyr (B)
Larissa PASB (G)

Utez (C)

*Witez II AHR (B)
Ladi Utez (C)
Musika AHR (B)
Ladi-Baha (C)
Abu Baha AHR (C)
Ladirah AHR (B)

Video of Nadia's Sire - ALI DHALAN

Pedigree includes - Polish, Russian, and Egyptian
Salon RASB

, *Muscat

, Ga'zi

, Witraz PASB

, Balalajka PASB

Enwer Bey PASB

, Trypolis PASB

, Wielki Szlem PASB

,

Ruminaja Ali , *Morafic

, *Bint Maisa El Saghira

, Shaikh Al Badi

,
*Khofo

, Bint Magidaa

, *Magidaa

, El Magato

, Fadi

,