Last Updated: 6/3/13









Below was published in the Spring 2011 Pinto Magazine, pg 43
Advanced Awards:
PtHA Open Champion #2922
Miss Nadia Star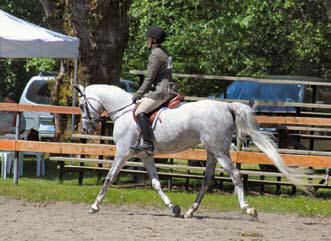 2004 Pleasure Type Mare (Breeding Stock)

Sire: ALI DHALAN (AHR)
Dam: MUSCESTARA (AHR)

Owner: Deborah Mircheff, or Robert Mircheff Sr, or Breanne Little, Seabeck, WA

PtHA Points/Awards:

Showing Open, MISS NADIA STAR has earned a total of 173 points with 2 ROMs, including a Halter ROM. With 74 Performance points, this horse has earned 1 Performance ROM.

Q&A:

What is your favorite thing about Pinto Horses?

Their versatility.

What is your favorite thing about showing Pintos?

The sportsmanship, multiple judges per show, and the verynice people involved in Pinto Shows.

When did you start riding? 4 years of age

How long have you had your Pinto? Since birth.

Tell us about your Pinto:

Nadia was orphaned at 5 weeks and then raised by a 29 year old quarter horse mare. At 3 years of age she began her training under saddle. At the age of 5, Nadia was registered Pinto Breeding Stock and she and Breanne entered their first Pinto show in April 2009. Nadia was shown by Breanne under saddle and in Halter by Judy Daugthery (Open) and by Breanne (Youth). By the end of 2009, Nadia had earned her ROM in Halter and was named 2009 Horse of the Year-Breeding Stock Halter Pleasure Type Mare. On Christmas day 2010, as a gift, Breanne Little was given part ownership of Nadia and her AHA and PTHA registration papers were changed to reflect her joint ownership along with her Aunt and Grandfather.

Anyone you would like to thank?

Debbie would like to thank - Breanne Little for doing a fabulous job of training Nadia and seeing her potential, Judy Daughtery for her expert guidance of Breanne and Nadia, Bob Mircheff - Nadia's outstanding and only farrier, Sharon, Mark, & Ryan Little for their outstanding support of Breanne, my mom and dad, Bob & Billie Mircheff for their never ending support throughout the years. Breanne would like to thank her parents and brother for their never ending support, her Aunt for giving her the opportunity to not only train but also become part owner of Nadia, and Judy Daugherty for all the wonderful lessons and skillls that she had taught me to make me a better horsewoman.